Do Servant Teachers Practice What They Preach? A Case of Academic Servant Leadership in A Faith-Based School in Indonesia
Keywords:
Servant Leadership, Teacher Leadership, listening, prioritizing others, being involved
Abstract
Servant Leadership has been considered as significant to improve the leadership of educational leaders including the one at schools. This research explores the academic leadership in a faith based Senior Highschool in Indonesia. The research involves a mix method of interview and questionnaire survey with the purpose of confirming the understanding and enactment of servant leadership by the teachers. This study was guided by the central question 'To what extent the teachers understand Servant Leadership? To what extent the teachers have practiced Servant Leadership (SL)?' for interviewing the teachers. The authors apply the Servant Leadership Behavior Scale as the theoretical foundation and statement items for 261 students. The collected data are then processed using qualitative data analysis which involves a reiterative process of data display, data condensation and conclusion drawing. The authors concluded that teachers understand Servant Leadership as 'mengutamakan orang lain' (prioritizing others), mendengarkan (listening), dan mau terlibat/mendampingi (being involved) and in they have been practicing SL as in line with the understanding. These understanding and practice have been confirmed by the findings from the questionnaire that 3 out of 6 dimensions of SLBS that have been understood and implemented well, specifically: Voluntary Subordination, Covenantal Relationship, and Transforming Influence.
References
Anderson, D. W. (2019). The Teacher as Servant Leader: Revisited. International Christian Community of Teacher Educators Journal, 14(1). Retrieved from https://digitalcommons.georgefox.edu/icctej/vol14/iss1/6
Barbuto, J. E., Gottfredson, R. K., & Searle, T. P. (2014). An Examination of Emotional Intelligence as an Antecedent of Servant Leadership. Journal of Leadership & Organizational Studies, 21(3), 315–323. https://doi.org/10.1177/1548051814531826
Cerit, Y. (2010). The Effects of Servant Leadership on Teachers' Organizational Commitment in Primary Schools in Turkey. International Journal of Leadership in Education, 13(3), 301–317. https://doi.org/10.1080/13603124.2010.496933
Crippen, C., Willows, J. (2019). Connecting Teacher Leadership and Servant Leadership: A Synergistic Partnership. Journal of Leadership Education. doi: 10.12806/V18/I2/T4
Eva, N., Robin, M., Sendjaya, S., van Dierendonck, D., & Liden, R. C. (2019). Servant Leadership: A Systematic Review and Call for Future Research. The Leadership Quarterly. https://doi:10.1016/j.leaqua.2018.07.004
Hackman, Michael, Z., Johnson, C. (2013). Leadership: A communication Perspective, Sixth Edition. United States of America: Waveland Press, Inc.
Iyer, R. D. (2013). Servant Leadership in Teaching. International Journal of Human Resource Studies, 3(1), 100. https://doi.org/10.5296/ijhrs.v3i1.3035
Miles, Matthew B., Huberman, Michael A., & Saldana, Johnny. (2020). Qualitative Data Analysis: A Methods Sourcebook. Thousand Oaks, CA: Sage Publication, inc.
Prawira, S (2021). Why is the Influence of Servant Leadership on Affective Commitment to Change Insignificant? Proposing Objective Workplace Spirituality as the Mediator. Petra International Journal of Business Studies, 4(1).
Schroeder, B. (2016). The Effectiveness of Servant Leadership in Schools from a Christian Perspective. BU Journal of Graduate Studies in Education, 8(2).
Sendjaya, S (2015). Personal and Organizational Excellence through Servant Leadership. Switzerland: Springer International Publishing
Stein, L. (2020). Teacher Leadership: The Missing Factor in America's Classrooms. The Clearing House: A Journal of Educational Strategies, 93(2), 78–84. doi:10.1080/00098655.2020.1716671
Sugiyono. (2016). Metode Penelitian & Pengembangan, Research and Development. Bandung: Alfabeta
Van Dierendonck, D. (2011). Servant Leadership: A Review and Synthesis. Journal of Management, 37(4), 1228–1261. https://doi.org/10.1177/0149206310380462
Wheeler, D. W. (2012). Servant Leadership in Higher Education: Principles and Practices. United States of America: Jossey-Bass-A Wiley Imprint.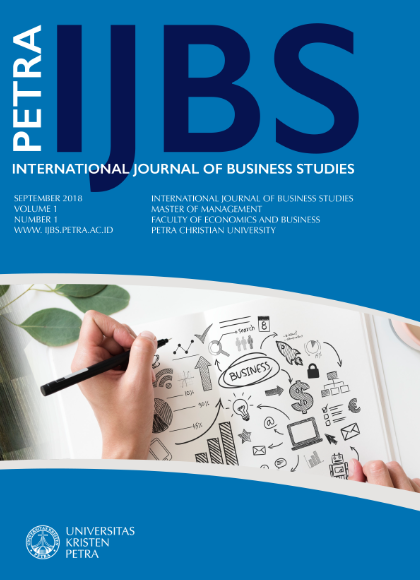 Additional Files
License
Petra IJBS (e-ISSN: 2621-6426) is published by Master of Management Program, Faculty of Business and Economics - Petra Christian University

This work is licensed under a Creative Commons Attribution-NonCommercial-ShareAlike 4.0 International License.